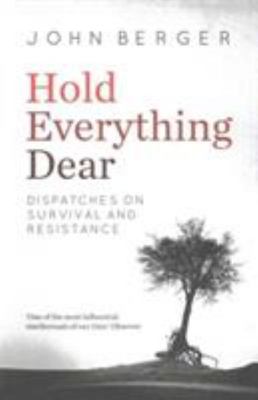 $19.99
AUD
Category: BOOKS OF HOPE
From the War on Terror to resistance in Ramallah and traumatic dislocation in the Middle East, Berger explores the uses of art as an instrument of political resistance. Visceral and passionate, Hold Everything Dear is a profound meditation on the far extremes of human behaviour, and the underlying despa ir. Looking at Afghanistan, Palestine, and Iraq, he makes an impassioned attack on the poverty and loss of freedom at the heart of such unnecessary suffering. These essays offer reflections on the political at the core of artistic expression and even at the center of human existence itself. ...Show more
$35.00
AUD
Category: BOOKS OF HOPE
The Sunday Times Bestseller and New York Times Bestseller. A book of hope for uncertain times. 'Feeling a little blue? Meet the new Winnie the Pooh.' The Daily Mail 'A wonderful work of art and a wonderful window into the human heart' Richard Curtis Enter the world of Charlie's four unlikely friends, di scover their story and their most important life lessons. The conversations of the boy, the mole, the fox and the horse have been shared thousands of times online, recreated in school art classes, hung on hospital walls and turned into tattoos. In Charlie's first book, you will find his most-loved illustrations and some new ones too.     ...Show more
$32.99
AUD
Category: BOOKS OF HOPE
THE INTERNATIONAL BESTSELLERA Guardian, Daily Telegraph, New Statesman and Daily Express Book of the Year'Hugely, highly and happily recommended' Stephen Fry'You should read Humankind. You'll learn a lot (I did) and you'll have good reason to feel better about the human race' Tim Harford'Made me see hum anity from a fresh perspective' Yuval Noah HarariIt's a belief that unites the left and right, psychologists and philosophers, writers and historians. It drives the headlines that surround us and the laws that touch our lives. From Machiavelli to Hobbes, Freud to Dawkins, the roots of this belief have sunk deep into Western thought. Human beings, we're taught, are by nature selfish and governed by self-interest.Humankind makes a new argument- that it is realistic, as well as revolutionary, to assume that people are good. By thinking the worst of others, we bring out the worst in our politics and economics too.In this major book, internationally bestselling author Rutger Bregman takes some of the world's most famous studies and events and reframes them, providing a new perspective on the last 200,000 years of human history. From the real-life Lord of the Flies to the Blitz, a Siberian fox farm to an infamous New York murder, Stanley Milgram's Yale shock machine to the Stanford prison experiment, Bregman shows how believing in human kindness and altruism can be a new way to think and act as the foundation for achieving true change in our society.It is time for a new view of human nature. ...Show more
$22.99
AUD
Category: BOOKS OF HOPE | Series: Canons Ser.
With Hope in the Dark, Rebecca Solnit makes a radical case for hope as a commitment to act in a world whose future remains uncertain and unknowable. Drawing on her decades of activism and a wide reading of environmental, cultural, and political history, Solnit argued that radicals have a long, neglected history of transformative victories, that the positive consequences of our acts are not always immediately seen, directly knowable, or even measurable, and that pessimism and despair rest on an unwarranted confidence about what is going to happen next. Originally published in 2004, now with a new foreword and afterword, Solnit's influential book shines a light into the darkness of our time in an unforgettable new edition. ...Show more
$29.99
AUD
Category: RAINBOW READS
Yes Yes Yes, written by two advocates intimately involved in the struggle for marriage equality, reveals the untold story of how a grassroots movement won hearts and minds and transformed a country. From its tentative origins in 2004, through to a groundswell of public support, everyday people contribut ed so much to see marriage equality become law.The book captures the passion that propelled the movement forward, weaving together stories of heartbreak, hope and triumph. It is based on personal memories and more than twenty interviews with key figures and everyday advocates from across Australia. It covers the movement's origins in 2004, when the Marriage Act of 1961 was amended to exclude same-sex couples, through to the unsuccessful High Court challenge, a public vote in 2017 and the Parliamentary aftermath. It reminds us that social change is possible and that love is love. ...Show more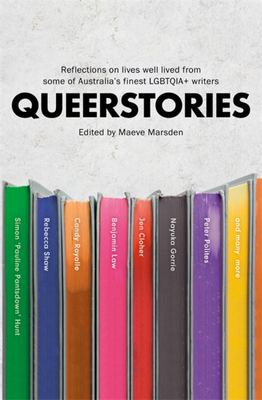 $29.99
AUD
Category: RAINBOW READS
There's more to being queer than coming out and getting married. This exciting and contemporary collection contains stories that are as diverse as the LGBTQIA+ community from which they're drawn. From hilarious anecdotes of an awkward adolescence, to heartwarming stories of family acceptance and self-d iscovery, the LGBTQIA+ community has been sharing stories for centuries, creating their own histories, disrupting and reinventing conventional ideas about narrative, family, love and community. Curated from the hugely popular Queerstories storytelling event this important collection features stories from Benjamin Law, Jen Cloher, Nayuka Gorrie, Peter Polites, Candy Royalle, Rebecca Shaw, Simon 'Pauline Pantsdown' Hunt, Steven Lindsay Ross, Amy Coopes, Paul van Reyk, Mama Alto, Liz Duck-Chong, Maxine Kauter, David Cunningham, Peter Taggart, Ben McLeay, Jax Jacki Brown, Ginger Valentine, Candy Bowers, Simon Copland, Kelly Azizi, Nic Holas, Quinn Eades, Vicki Melson, Tim Bishop and Maeve Marsden. ...Show more
$19.99
AUD
Category: PHILOSOPHY/PSYCH
How can we rebuild our society? In Out of the Wreckage, George Monbiot outlines how both democracy and economic life can be radically reorganized from the bottom up, enabling us to take back control and overthrow the forces that have thwarted our ambitions for a better society. Book jacket.
Items per page:
1 - 7 of 7